Scroll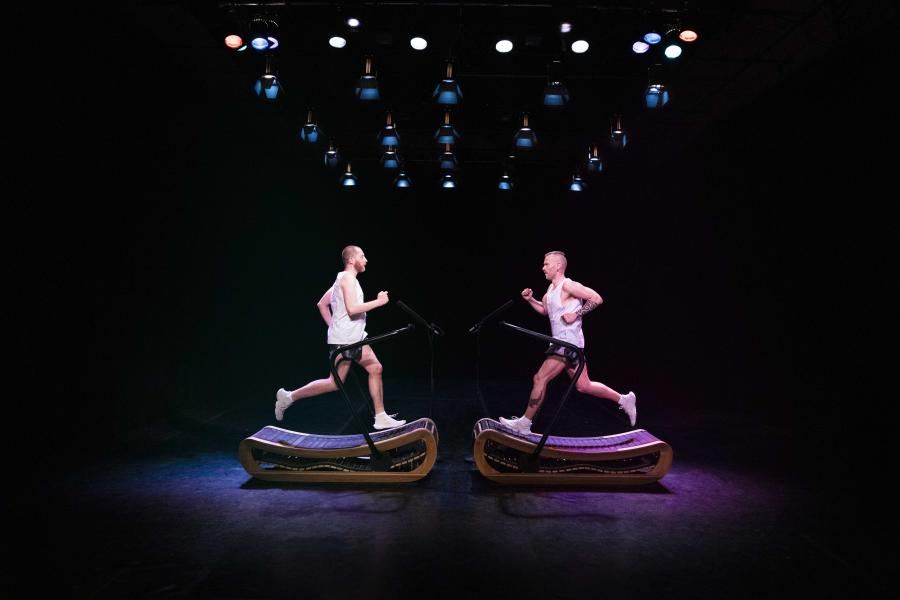 Dogs of Love
A Queer Quantum Love Story
ONCE WE WERE ISLANDS
What distinguishes queer love? In their performance, Once We Were Islands examines the intimate connection between two people that outlasts time and space. Beginning from their own love for each other in the here and now, the two distance themselves from each over the course of the performance and move through time. Following virtual paths in the future and/or the past, they experience and live through stories of queer togetherness that are both real as well as fictional.
Direction, Text, Performance, Design: Richard Aslan, Chris Gylee
Light design: Elliott Cennetoglu
Music, sound design: Elie Gregory
Photography: Julian Hemelberg
Production management: ehrliche arbeit – Freies Kulturbüro
Press: Nora Gores, Kerstin Böttcher
Graphic: Kruse & Müller
Once We Were Islands
ONCE WE WERE ISLANDS is a collaboration between artistic directors Chris Gylee (scenographer and performance maker) and Richard A (writer and performance maker). Our work centers on participative experiences and has the goal of developing artistic formats. Our projects begin with a research question or a strong connection to someone who looks at the world in ways we are not used to. Our collaborators might be specialists, have a particular life experience or skill, think about things in an intriguing way, or simply be open to exploration. Our ongoing research makes inquiries into queerness, empathy, marginalization and activism. Elements of performance, theater, installation and choreography serves as our raw materials. The result is a series of contemporary rituals within interlocking performative machines and laboratories. These charged spaces encourage uncanny experiences, provoke surprising thought patterns and cast light upon human interaction.
Ursprünglich geplant für / Originally planned for: