Scroll
Performance
Spoken Word Theater
Dance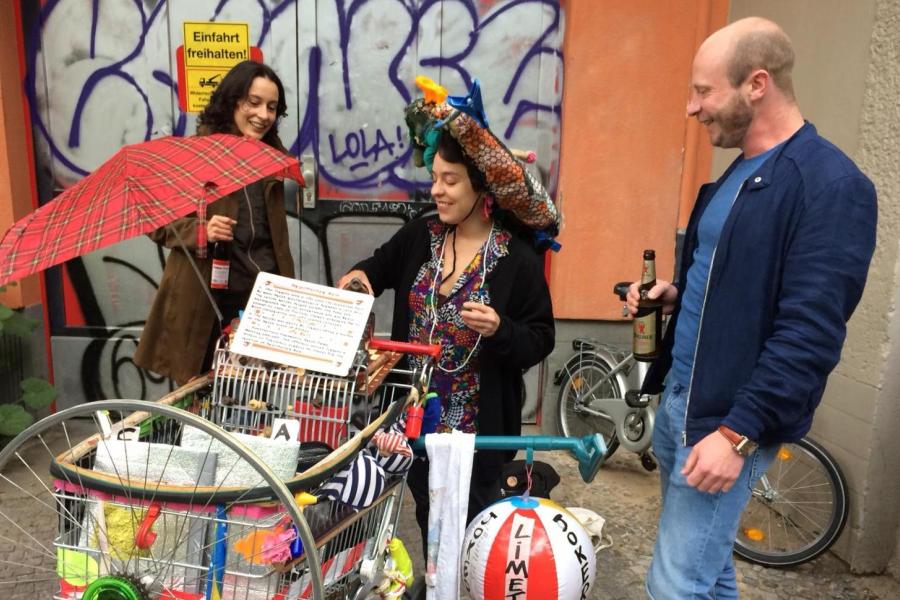 LAURA_AkiÓ->PLAYTrucke
Street game show
Laura Carvalho
Brazilian television is unimaginable without game shows. Using cash prizes, they motivate the audience to participate and reproduce a compulsion to buy and chauvinism without any space for reflection for the purposes of entertainment. LAURA_AkiO-> PLAYtrucke takes the format to the streets, changes the rules and thus encourages reflection upon current political circumstances, societal structures and historical developments.
By and with: ​​​​Stephan Maier, Laura Carvalho
Laura Carvalho was born in 1991 in São Paulo, Brazil and works and lives in Berlin, Germany. She is a multi-media artist who has advocated for vulnerable people in the context of public health programs and has worked with people suffering from mental illness and substance abuse. It was inside these hostile environments that Carvalho found a fruitful place for the development of her visual production. The precarious, provisional, and dynamic elements of these environments make up the substantial matter of her work. As precisely as a needle, her main instrument of work, Laura sews and redefines objects and fabrics. The artist aims to unify different areas of knowledge, techniques and methods, creating a symbolic weaving of new lines of thoughts.
Trailer "LAURA_AkiÓ->PLAYTrucke"
Ursprünglich geplant für / Originally planned for: