Scroll
Music Theater/Performance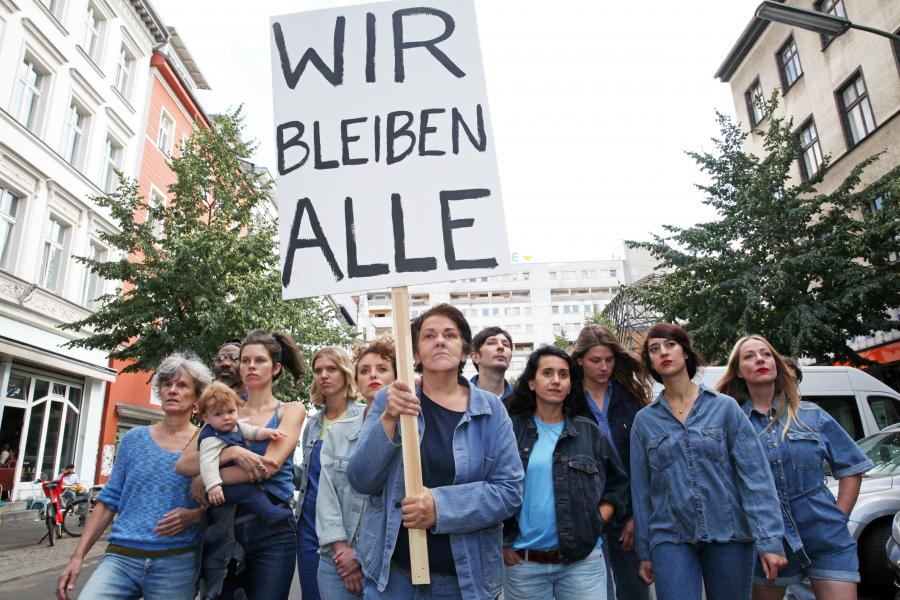 Stadt unter Einfluss - das Musical zur Wohnungsfrage
Christiane Rösinger
As the long-term renter of an apartment in Berlin-Kreuzberg, Christiana Rösinger has now become an expert in the matters of modernization, rent increases and the threat of displacement. For Stadt unter Einfluss – das Musical, the musician and writer brings the question of housing to the stage with eight musicians and a chorus of Kreuzberg and Neukölln rent activists. In the end, it all turns out okay, of course - after all, this is a musical! For all those who have missed this widely acclaimed event so far, it will return to the HAU1 stage in the coming season!
Composition, text and direction: Christiane Rösinger
Co-composition, arrangement: Andreas Spechtl
Band: Andreas Spechtl, Sonja Deffner, Rabea Erradi, Laura Landergott
Singers: Christiane Rösinger, Sila Davulcu, Claudia Fierke, Doreen Kutzke, Rúben Nsue, Julia Wilton
Co-direction, video: Marlene Blumert
Co-direction, dramaturgy: Meike Schmitz
Choirmaster: Doreen Kutzke
Choir consisting of participants of Berlin tenants initiatives: Magnus Hengge, Martina Hoffmann, Halina
Hoppe, Hilde Janßen, Birgit Mahne, Hildegard Meier, Anna- Katharina Pelkner, Catherine Ruet, Ira von Schoeppenthau
Choreography: Rúben Nsue
Set: Marlene Lockemann, Sina Manthey
Costume: Svenja Gassen
Make-up: Juli Schulz
Lighting design: Hans Leser
Dramaturgical advice: Aenne Quiñones
Production management: Jana Penz
Technical direction: Ingo Ruggenthaler
Assistance direction: Julius Böhm
Assistance costume: Bastian Stein
Assistance production / Stage manager: Chiara Galesi
Internship scenography: Sofia Loose
Translation: Lyz Pfister
Operating surtitles: Anna Kasten // Panthea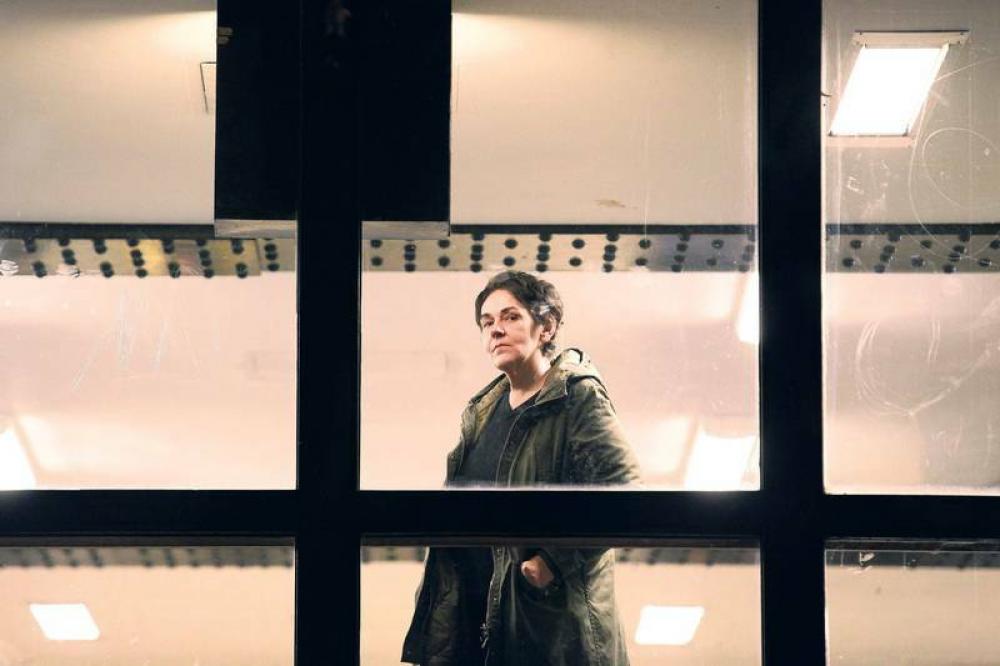 Christiane Rösinger
Christiane Rösinger was the founder, singer and text writer of the Berlin bands Lassie Singers and Britta. In the 1990s, she was one of the people running the legendary Flittchenbar at Berlin Ostbahnhof. Alongside her work as a musician, she writes columns and other pieces for various newspapers and magazines, including the taz, Tagesspiegel, Berliner Zeitung and Frankfurter Allgemeine Zeitung. In 2008 she published her first novel, Das schöne Leben. She has been writing and delivering the weekly column "Aus dem Leben der Lo-fi-Boheme" for the Austrian radio station fm4 since 2008. Her first solo album, Songs Of L. And Hate, was released in 2010. In 2016 she was part of Der Spielmacher – Ein Fussical at HAU Hebbel am Ufer, along with Die Türen, Jens Friebe, Chris Imler and Andreas Spechtl. She presented her second solo album, Lieder ohne Leiden, at HAU in 2017 and premiered Stadt unter Einfluss - ein Musical in October 2019 at HAU1.
Christiane Rösinger - Song clip for "Stadt unter Einfluss"
The video clip with the song "Stadt für Alle" from the musical "Stadt unter Einfluss" by Christiane Rösinger reminds us of "good old times" at HAU without a social distance of 1.5 m.
Video clip: Julia Elger & Jürgen Fehrmann
Camera: Walter Bickmann
Photos Cast: Dorothea Tuch
Production: HAU Hebbel am Ufer
Production and resumption supported by: Hauptstadtkulturfonds, Musicboard Berlin GmbH
Presented as part of #HAUonline.
Teaser "Stadt unter Einfluss - das Musical zur Wohnungsfrage"
Ursprünglich geplant für / Originally planned for: